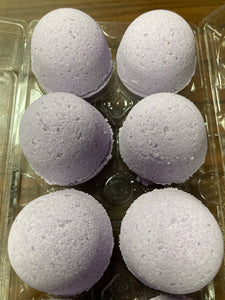 These heavenly smelling bath/foot bombs are what you need to relax and rejuvenate your whole body in the bath tub or a foot soak in a basin.
Our Nissi Naturals Bath Bombs are made naturally with Baking soda, Epsom Salt, Citric Acid, Corn Starch/Kaolin Clay, Vanilla Oil, Witch Hazel and scented with calming  Essential/Fragrance Oils and Lakes for coloring.
These are made to order but you can always buy what is available in our store.