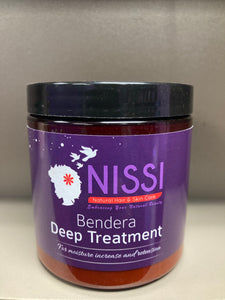 Nissi Naturals' Bendera Deep Treatment does wonders for your hair.
Best Results Usage: After spraying your hair with warm water, apply at least a palm-full to sections of your hair while detangling it. Cover your head with a plastic cap for at least an hour to allow the Bendera to do its wonders. After this, wash hair with Nissi Naturals' Clarifying Shampoo bar*, then apply a generous amount of vegetable glycerine to dripping wet hair. Lastly, add Nissi Naturals' SheaFlax cream* using clasped hands motion (prayer motion). Style your hair as desired. Please remember that Bendera is a deep protein treatment and not a leave-in-conditioner.

Bendera Deep Treatment is great because of the red palm oil, which is rich in vitamin E and promotes hair growth, strengthens hair, decreases graying of hair and enhances the curl pattern.
Use Bendera Deep Treatment weekly to achieve faster results.

All Natural Ingredients:
Yogurt, Red Palm Oil, Coconut Cream, Coconut Oil; Naturally Derived Stearic Acid, E-wax, & BTMS; Honey, Glycerin, and Natural Preservatives.

We created this deep treatment from our own natural recipe. We make own organic yogurt, and the Red Palm Oil we get from Uganda. You will not find another product on the market that is as great as ours!
*This product is also sold in our complete natural hair care kit